In New Ads, National Women's Group Pressures Baltimore Mayor to Remove Commissioner Who Condoned Rape in Public House Facilities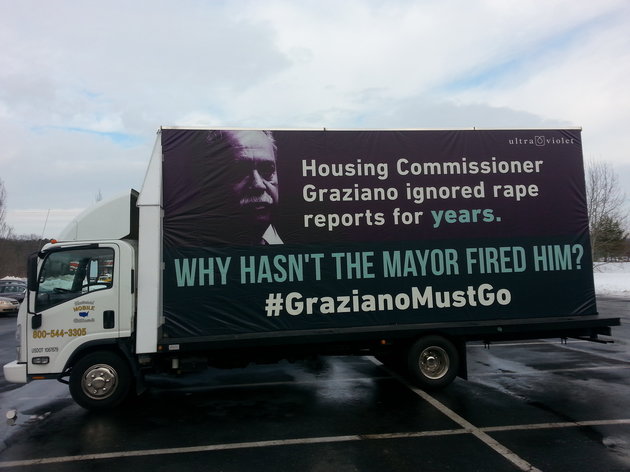 For Immediate Release: January 27, 2016
Contact: Andrea Alford, 703-477-1075, andrea@weareultraviolet.org
In New Ads, National Women's Group Pressures Baltimore Mayor to Remove Commissioner Who Condoned Rape in Public House Facilities
UltraViolet Rolls Out Billboards to Demand the Removal of Housing Commissioner After Women Forced To Trade Sex For Basic Repairs
BALTIMORE —Mobile billboards will be traveling around Baltimore Mayor Stephanie Rawlings-Blake office and the city Housing Authority building Wednesday, calling for Mayor Rawlings-Blake to fire Housing Commissioner Paul Graziano after employees forced women in a public housing unit to trade sex for apartment repairs. Despite Graziano's knowledge of the abuse, Mayor Rawlings-Blake continues to defend and applaud the commissioner.
"By standing with Graziano, the mayor is sending the message that she's fine with rape and abuse going unchecked under her administration," said Shaunna Thomas, co-founder of UltraViolet. "In order for women living in Baltimore public housing to feel safe, Graziano must go! We're asking that Mayor Rawlings-Blake do the right thing and fire him."
Over 35,000 UV members have signed a petition and more than 2,500 calls have been made demanding that Baltimore Mayor Stephanie Rawlings-Blake fire Commissioner Paul Graziano and put an end to rampant abuse and harassment in the city's housing authority. View the petition here: http://act.weareultraviolet.org/sign/baltimore_graziano/
For interviews with UltraViolet please contact Andrea Alford at 703-477-1075 or andrea@weareultraviolet.org.
# # #
UltraViolet is an online community of over 700,000 women and men who want to take collective action to expose and fight sexism in the public sector, private sector and the media. Find out more at WeAreUltraViolet.org.