Louisville Courier Journal Centerfold to Declare  "Breonna Was Essential" Demands Accountability for the Police Murder of Breonna Taylor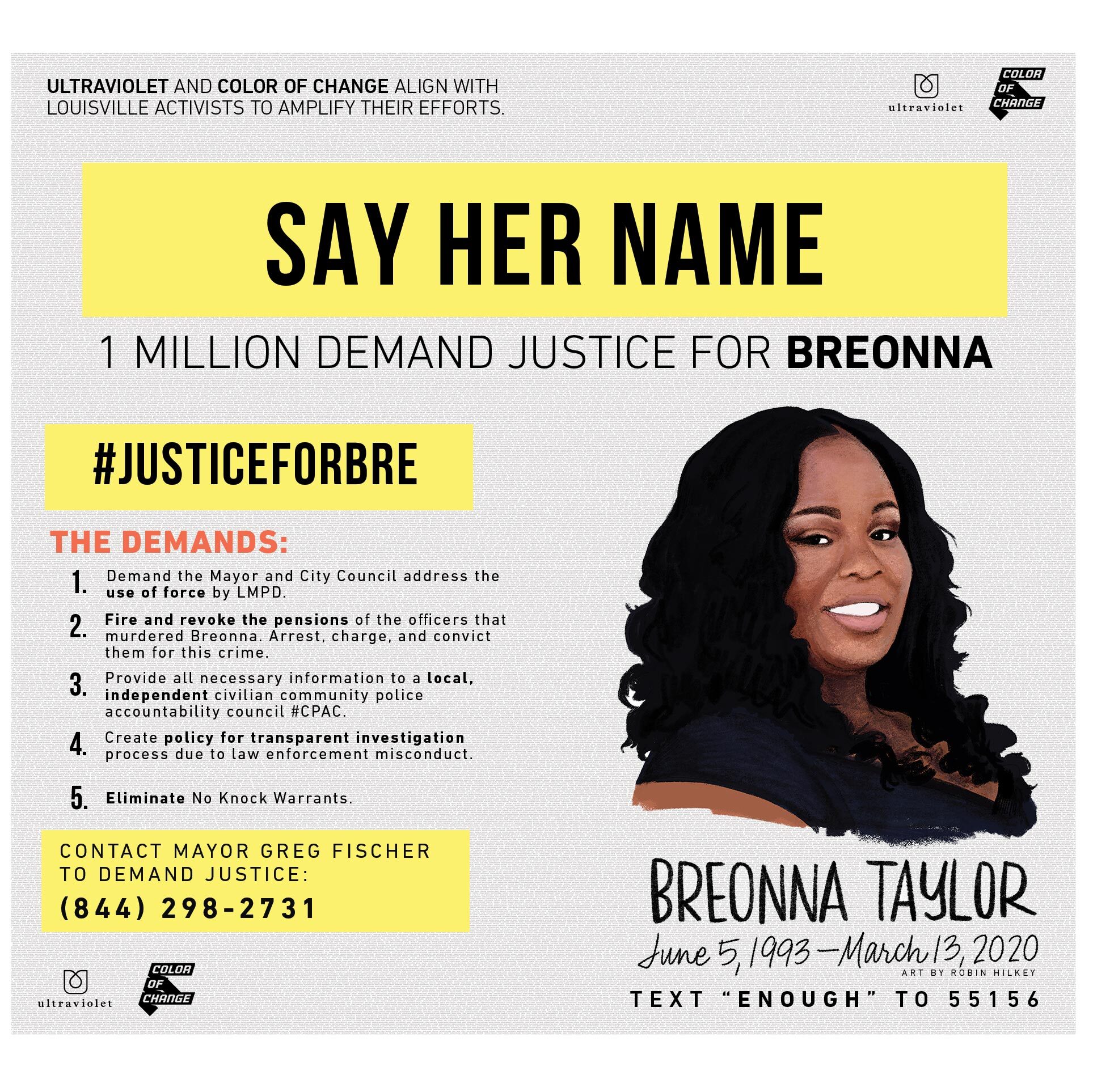 FOR IMMEDIATE RELEASE Friday, June 5, 2020
CONTACT: Anna Zuccaro | anna@unbendablemedia.com
FRIDAY: Louisville Courier Journal Centerfold to Declare  "Breonna Was Essential" Demands Accountability for the Police Murder of Breonna Taylor
Color of Change, UltraViolet Commission Centerfold on Breonna Taylor's Birthday, Calling for the Arrest and Conviction of All Officers Involved in Her Murder
LOUISVILLE, KY — On Friday, June 5th, on what would have been Breonna Taylor's 27th birthday, the centerfold of the Louisville Courier Journal will carry a paid advertisement declaring that "Breonna was Essential."  The centerfold demands accountability for the murder of Breonna Taylor, a 26-year-old emergency room technician who was shot to death in her home while she slept by members of the Louisville Police Department.
VIEW FRIDAY'S AD IN THE LOUISVILLE COURIER JOURNAL HERE: https://bit.ly/BreonnaWasEssential
The full page ads were commissioned jointly by Color of Change and UltraViolet and done in direct coordination with Louisville community activists, including Black Lives Matter Louisville, to amplify their existing efforts.
The image displayed in the ad, which includes artwork of Breonna Taylor created by Robin Hilkey, echoes the demands of local Louisville organizers. They include:
Demand the Mayor of Louisville and City Council address the use of for by the LMPD

Fire and revoke the pensions of the officers that murdered Breonna. Arrest, charge and convict them for this crime.

Provide all necessary information to local, independent civilian community police accountability council #CPAC.

Create policy for transparent investigation processes due to law enforcement misconduct.

Eliminate no knock warrants
"Breonna Taylor was essential. This week marks what would have been the 27th birthday of Ms. Taylor. She is not here. Her life and what she meant to her family and community was essential and that is why we will continue to fight until our demands are met. We honor her memory by demanding justice!" said Hannah Drake, a Louisville community artist and poet.
"Breonna Taylor was essential. She was an essential worker, an essential member of the Louisville community and her life mattered. She is dead because Louisville Metropolitan Police Department officers murdered her as she slept – and it is unacceptable that her killers remain uncharged and employees of the LMPD,"  added Shaunna Thomas, Executive Director of UltraViolet. "We stand in solidarity with her family, friends and Louisville activists who are demanding justice for her death. The LMPD must be held accountable for these horrific and racist acts."
"As a dedicated EMT, Breonna Taylor was essential not only to her family and loved ones, but to the entire Louisville community in the midst of this pandemic," said Scott Roberts, Senior Director of Criminal Justice Campaigns at Color Of Change. "But when her community needed her most, cops ended her young life – without consequence. On what would have been Breonna's 27th birthday, we honor her life and legacy by demanding a fairer, safer justice system. Breonna fell victim to racist violence that affects countless Black women nationwide, and the first step toward justice for their loved ones is holding their killers accountable. Mayor Greg Fischer must fire the three police officers that murdered Breonna, and they must face criminal charges for her death. But to truly see justice done, we must address the root cause of Breonna's death – deep, systemic racism – to prevent future tragedies in Louisville and across the U.S. "
# # #