AT&T Retail Store Action Toolkit
Who: You
What: Receipt and letter delivery to your local AT&T store
When: June 2022
How: Keep reading!
Background
Abortion access is in a state of emergency: The Supreme Court is set to gut Roe v. Wade, and over 100 new abortion restrictions were passed into law in the past year alone. AT&T is one of the largest corporate supporters of the extremist anti-abortion movement. The #ReproReceipts data compiled by UltraViolet show that since 2020, AT&T gave over $5 million to anti-abortion politicians across the country, including hundreds of thousands of dollars to the primary sponsors of Texas S.B.8 and to the politicians behind the Mississippi 15-week abortion ban currently before the Supreme Court. A leaked draft opinion from the court indicates the outcome of the latter will end legal abortion for millions of Americans.
AT&T is already feeling the heat from investors for its political giving. Just recently, 44% of AT&T shareholders supported a proposal that would have pushed the company to publish a report analyzing its political and electioneering expenditures and its stated values and policies.
By continuing to raise the alarm about AT&T's political agenda, we can show company leadership that consumers are watching and are not happy AT&T is funding extremists that are taking away basic rights. 
Already, hundreds of thousands of people have spoken out about AT&T's anti-abortion political giving. We've blasted the company with phone calls, petition signatures, and social media storms. Now, we're escalating the fight for abortion freedom to AT&T's doorsteps across the country. If we bring our message to AT&T store locations and speak with local retail workers, then AT&T executive leadership will see that our movement is only growing stronger and that consumer trust is on the line. Together, we'll force AT&T to pledge to stop giving to anti-abortion politicians. 
On June 6, we're kicking off a week of action. Throughout the week, activists like you will deliver our message to retail stores across the country to drum up the pressure and media hits. In this toolkit, you'll find everything you need to join the movement.
Step-by-Step Guide
Locate your nearest

AT&T store

. 

Choose a date and time to visit the store in

June. It should be quick–no more than 10 minutes, in and out! 

Print out the attached graphic and letter, and sign the letter. 

The letter is addressed to John Stankey,

CEO of AT&T.

Bring a friend if you can, or go solo.
NOTE: PLEASE WEAR A MASK IN THE STORE–even if you are vaccinated!

Before you go inside, take a photo of yourself in front of the store with the AT&T receipt below. If you have friends with you, that's best! But if not, snap a quick selfie.

Go inside the store and ask to speak with a sales associate or manager. It's best to use your own words and share your own story, but you can say something like this: 

"Hi, my name is _____. I'm here to deliver a message to AT&T executives. AT&T brands itself as a company that values justice and equality, but behind closed doors, we know that AT&T is powering hateful extremists working to strip away our rights. We have here a receipt showing that AT&T is one of the largest corporate funders of abortion bans in the country. Since 2020, AT&T gave over $5 million to anti-abortion extremists, including four out of five of the Texas abortion ban's primary sponsors. If AT&T would like the support of consumers like me, then the company must pledge to stop funding anti-abortion, anti-justice politicians.


Hand them the printed graphic and signed letter.

Bonus: Have a friend take a photo and video of you speaking to them and handing them the letter! 
Post your action on social media, tagging @UltraViolet and @ATT and using the hashtag #ReproReceipts. 

Fill out this

Report-Back form

to let us know how it went and upload your photos.
Important Reminders
If you are asked to leave the store, then leave the store immediately.
You can fly solo for a small action like this, but actions are always more fun and effective when you can get a friend or a group of friends to join you. 

WEAR A MASK! Please be masked up when entering the store, both for your safety and the safety of the workers–even if you are vaccinated/boosted.

If you have friends join you, make sure you designate one person to take photos and be responsible for submitting them afterwards. 

Be polite and kind to the retail workers you meet–they are not the ones we are targeting. In fact, they are also harmed by AT&T's business practices, and we are on the same side. The wealthy executives at AT&T are the culprits behind AT&T's anti-abortion funding. This is a great chance to build relationships with local AT&T workers to join our movement!
Sample Social Media Posts
Post 1: 
We've had it with AT&T's PR stunts. @UltraViolet is demanding @ATT actually follow through and divest from anti-abortion politicians and the abortion bans they support! https://weareuv.us/attstop
Post 2: 
The #ReproReceipts from @UltraViolet show that @ATT is funding the anti-abortion politicians who are working to end access to safe and legal abortion. Enough is enough! https://weareuv.us/attstop
Post 3: 
We have the #ReproReceipts. @ATT – you can't say you support women but give to politicians trying to dismantle our rights! Join the campaign: https://weareuv.us/attstop
Post 4: 
The #ReproReceipts compiled by @UltraViolet show that @ATT is one of the major corporate funders 💰💰💰 of the abortion bans moving across the country. Join me in holding AT&T's feet to the fire for funding abortion bans. Take action now: https://weareuv.us/attstop
Post 5:
.@ATT we have a little message for you: stop funding anti-abortion extremists and start putting your money with politicians who know that #AbortionIsFreedom #ReproReceipts! https://weareuv.us/attstop
Graphic & Letter to Print and Sign below:
Click here to print the receipt image.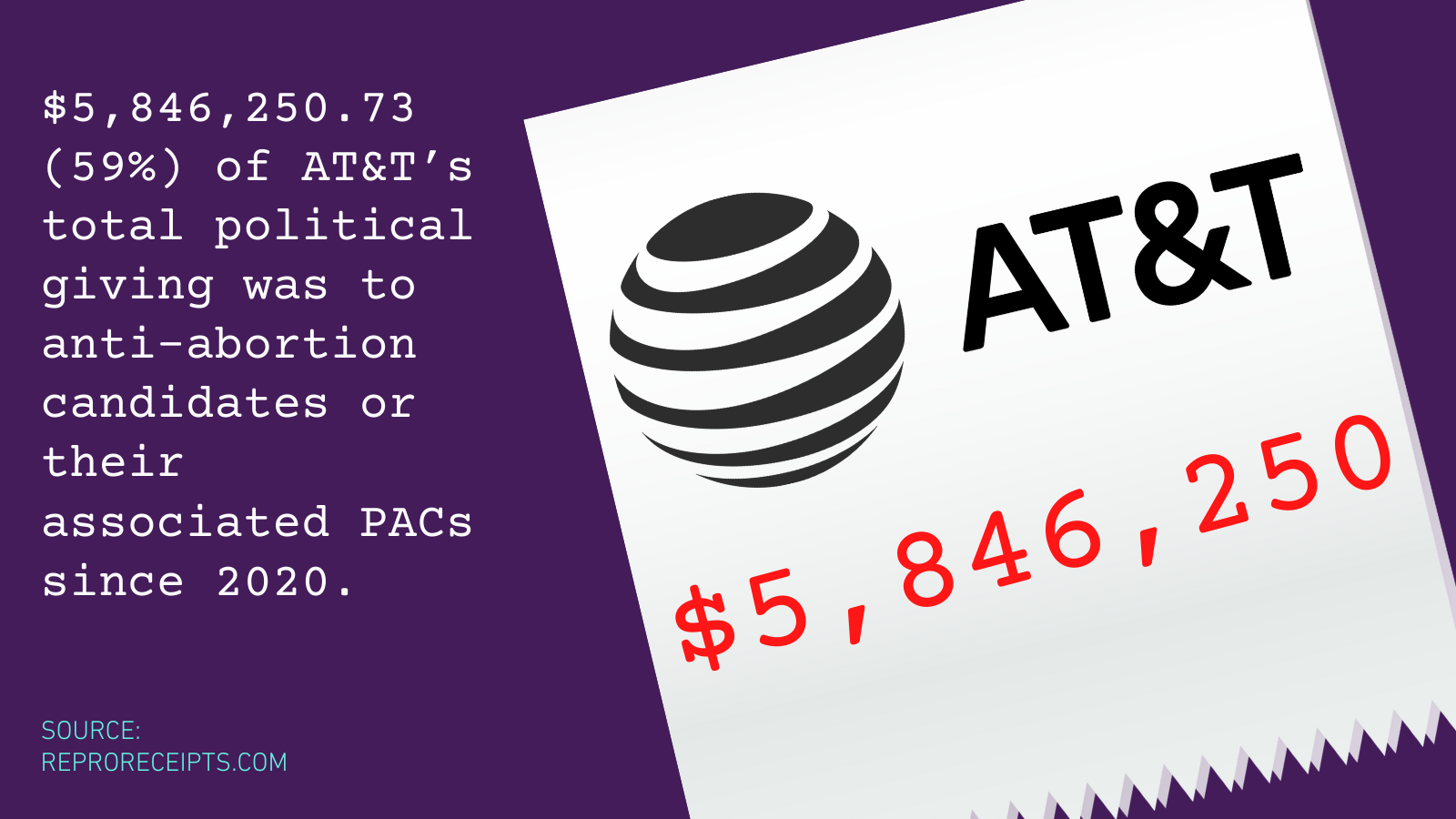 Click here to print the letter.
UltraViolet_ AT&T letter