FRIDAY 9AM: Anti-Persky Bike Billboards to Circle Santa Clara County Jail, Courthouse as Brock Turner is Released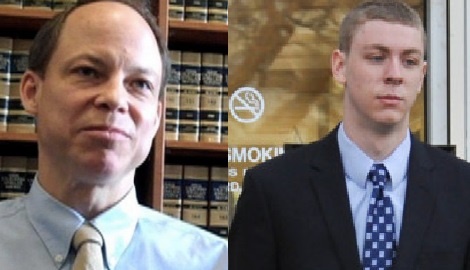 MEDIA ADVISORY FOR: Friday, September 2, 2016
CONTACT: Brett Abrams | brett@unbendablemedia.com | (516) 841-1105
FRIDAY 9AM: Anti-Persky Bike Billboards to Circle Santa Clara County Jail, Courthouse as Brock Turner is Released
Bicycle Billboards Read: "Thanks to Judge Persky, Brock Turner Served Just 3 Months in Jail"
CALIFORNIA — This Friday, as convicted rapist Brock Turner is released from the Santa Clara County prison following his short-three month sentence for raping an unconscious woman on Stanford University's campus, UltraViolet, has commissioned three bicycle billboards to circle the courthouse and jail complex with banners reading:  "Thanks to Judge Persky, Brock Turner Served Just 3 Months in Jail."  
WHEN:  Bicyclists will start riding at 9:00am PT and ride throughout the morning.
WHERE: 190-200 West Hedding Street. San Jose, CA
SEE BICYCLE BILLBOARDS HERE: https://drive.google.com/a/unbendablemedia.com/file/d/0B081a4Y_bqF9OExqWVpRa19sSmc/view
Members of UltraViolet will also attend a press conference outside the Santa Clara County Courthouse later that day to highlight how Judge Persky has consistently prioritized the well-being of rapists and abusers over justice for survivors – and continue their call for his removal from the bench.
WHEN: Friday, September 2nd at 10:00AM PT
WHERE: 190-200 West Hedding St. San Jose, CA
SPEAKERS INCLUDE: Kamilah Willingham, co-founder of Survivors Eradicating Rape; Sofie Karasek, co-founder of End Rape on Campus; Michele Dauber, Recall Aaron Persky;
"Brock Turner was proven guilty of raping an unconscious woman behind a dumpster," said Nita Chaudhary, Co-founder of UltraViolet. "There were witnesses. There was evidence. And there is a woman whose life will be forever changed by the assault. But because Judge Persky prioritized the wellbeing of Brock Turner, a white privileged athlete, over the survivor of his crimes – Turner is now free.  And that's why more than 1 million people from California and across the country are calling on the Commission for Judicial Performance to recognize Judge Persky's dangerous bias and remove him from the bench."
Since news of Judge Persky's verdict in the Brock Turner case broke, UltraViolet has:
# # # # #
UltraViolet is an online community of over 1,000,000 women and men who want to take collective action to expose and fight sexism in the public sector, private sector and the media. Find out more at WeAreUltraViolet.org