Full-Page Ad In Today's Washington Post: 3,000+ Sexual Assault Survivors to GOP – Stop Enabling and Supporting Donald Trump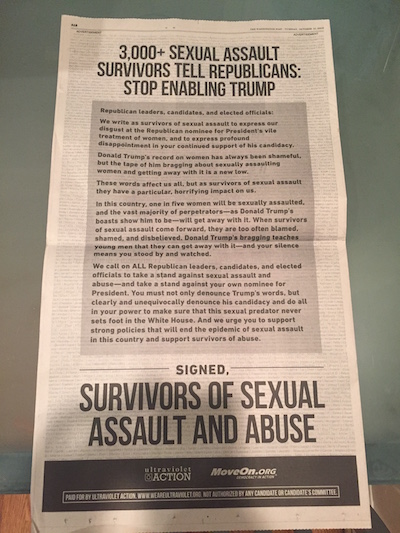 MEDIA ADVISORY FOR:Tuesday, October 11, 2016
CONTACT: Anna Zuccaro | anna@unbendablemedia.com | 914-523-9145
Full-Page Ad In Today's Washington Post: 3,000+ Sexual Assault Survivors to GOP – Stop Enabling and Supporting Donald Trump
UltraViolet Action, MoveOn.org Political Action Commission Full-Page Ad Urging GOP Leaders to Take a Stand Against Sexual Assault, Abuse and Withdraw Support from Donald Trump's Candidacy
On Tuesday, October 11th, a new full-page ad in The Washington Post will feature the voices of more than 3,000 survivors of sexual assault calling on Republican leaders, candidates, and elected officials to denounce presidential nominee Donald Trump's flagrant remarks promoting sexual assault and withdraw support from his candidacy.
The full-page ad, paid for by UltraViolet Action, a national women's advocacy organization, in conjunction with MoveOn.org Political Action comes after The Washington Post released a hot mic video of Trump bragging to Access Hollywood's Billy Bush in 2005 about grabbing women by their genitals. The video also features Trump making extremely lewd comments about kissing, groping, and sexually harassing women, saying "when you're a star, they let you do it."
When moderator Anderson Cooper asked Trump during the second presidential debate whether Trump understands that such actions constitute sexual assault, Trump failed to demonstrate any such understanding. Instead, Trump replied, "no," and added, "I didn't say that at all. I don't think you understood what was said." Meanwhile, many Republican leaders continue to support Trump's campaign.
View the ad here: https://s3.amazonaws.com/s3.weareultraviolet.com/images/20161009-uv-newspaperad-OUTLINE.pdf
"Donald Trump is a dangerous, predatory misogynist and the living embodiment of rape culture — asserting he has the right to assault women simply because he's famous," explained Shaunna Thomas, co-founder of UltraViolet Action. "With one-in-five women in the US facing sexual assault in their lifetimes, it's because of men like Donald Trump and his political allies that this national epidemic is so intractable. Republicans must do more than just disavow these horrific comments – they need to actively denounce Donald Trump and his campaign for President.  Survivors of sexual assault deserve better."

"Not only has Donald Trump proven time and time again that his presidency would be a fundamental threat to American democracy, his latest recorded remarks, in which he brags about grabbing women's genitals, proves that he is unfit to govern," said Anna Galland, executive director of MoveOn Civic Action. "Make no mistake, what Donald Trump was describing in the video amounts to a crime—sexual assault and violence against women, plain and simple. It is high time that the Republican Party muster any remaining integrity and turn their backs on the most divisive presidential candidate this country has ever seen."
#  #  #
UltraViolet Action is an online community of over 1,000,000 women and men who want to take collective action to expose and fight sexism in the public sector, private sector and the media. Find out more at WeAreUltraViolet.org.
MoveOn.org Political Action is a community of millions of Americans from all walks of life who are using innovative technology to lift up their voices in our democracy and build progressive power in campaigns for progressive change and in elections.