New Online Ads Link GOP Senators to Donald Trump As They Refuse to #DoYourJob and Consider Obama Supreme Court Nominee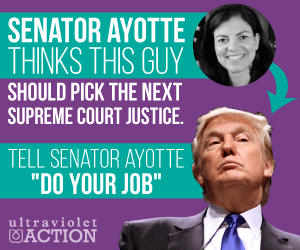 FOR IMMEDIATE RELEASE: Tuesday, March 08, 2015
CONTACT: Brett Abrams | 516-841-1105 | brett@unbendablemedia.com
New Online Ads Link GOP Senators to Donald Trump As They Refuse to #DoYourJob and Consider Obama Supreme Court Nominee
UltraViolet Action Takes Out Ads on Facebook, Twitter and Instagram Asserting that GOP Senators in WI, OH, NH, PA and IA Want Donald Trump to Pick the Next Supreme Court Justice
WASHINGTON, DC — UltraViolet Action, a national women's advocacy organization, is launching a new online ad campaign targeting Republican Senators from Iowa, New Hampshire, Ohio, Pennsylvania and Wisconsin linking them to Donald Trump, and asserting that they want Trump to be responsible for picking the next Supreme Court justice.
The ads come as Sen. Kelly Ayotte (R-NH), Sen. Ron Johnson (R-WI), Sen. Rob Portman (R-OH), Sen. Pat Toomey (R-PA) and Sen. Chuck Grassley (R-IA) continue refusing to fulfill their constitutional obligations and consider President Obama's nominee for the Supreme Court, saying instead that the next President should have that privilege.
The online ads, part of a five-figure buy, will run on Facebook, Twitter and Instagram on Capitol Hill and in the Senator's home states and are part of an effort by UltraViolet Action urging Senators to "do their job" and stop picking and choosing their responsibilities.
View the ads here: https://www.flickr.com/photos/92289821@N04/sets/72157665646299385
"The American people are tired of the same-old Republican politics that puts partisanship and obstruction ahead of the Constitution and what's good for the country. Worse, by refusing to fulfill their constitutional responsibilities and consider an Obama nominee, it is clear that these Republicans would rather Donald Trump be responsible for picking the next Supreme Court justice." explained Nita Chaudhary, co-founder of UltraViolet Action. "That incredibly dangerous decision sends a clear signal to voters that Senate Republicans, under the leadership of Mitch McConnell are both unfit, and unwilling to serve the best interests of the American people. The Senate must stop undermining our democracy, fulfill their constitutional duties and vote on whomever President Obama nominates for the Court."
# # # # #
UltraViolet Action is an online community of over 700,000 women and men who take collective action to expose and fight sexism in the public sector, private sector and the media. Find out more at WeAreUltraViolet.org