New Online Ads Targeting NBA Fans Ramp Up Pressure on PepsiCo to Pull Sponsorship of 2017 All-Star Game in North Carolina Over Anti-LGBTQ Laws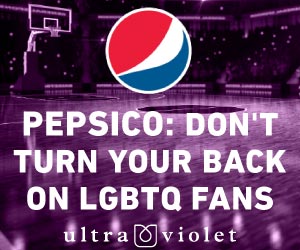 FOR IMMEDIATE RELEASE:  Friday, April 15, 2016
CONTACT:  Brett Abrams | 516-841-1105 | brett@unbendablemedia.com
New Online Ads Targeting NBA Fans Ramp Up Pressure on PepsiCo to Pull Sponsorship of 2017 All-Star Game in North Carolina Over Anti-LGBTQ Laws
Women's Group Takes Out Ads on ESPN.com, Sports Illustrated and Other Online Platforms Calling for PepsiCo To Take Action and Stand with LGBTQ Fans
NORTH CAROLINA — With more and more businesses leaving North Carolina in the wake of the State's new draconian anti-LGBTQ laws, a new push from UltraViolet, a national women's advocacy organization, is calling on the PepsiCo, a major sponsors of the 2017 All-Star Game, to pull its sponsorship of the game, if the NBA moves forward with its plan to keep the game in North Carolina.
The online ads, which will appear on ESPN.com, SportsIllustrated.com and other sports websites frequented by basketball fans will run starting tomorrow, April 16th and run through May 15th.  The ads, which coincide with the start of the NBA playoffs this weekend, call on PepsiCo not to turn its back on LGBTQ basketball fans and urge the NBA to move the 2017 All-Star Game.
VIEW THE ADS HERE: https://www.flickr.com/gp/79559505@N06/X3LF95
North Carolina's new anti-LGBTQ law, passed in March, prevents transgender individuals from using the bathroom that corresponds with their gender identity, nullifies existing LGBTQ protections passed by North Carolina cities, and prevents the those cities from passing future anti-discrimination laws to protect LGBTQ individuals.  While Governor Pat McCrory has amended the law to increase employment protections, for LGBTQ persons,  the law still leaves transgender individuals especially vulnerable to discrimination and harassment by forcing them to use bathrooms and facilities that do not correspond with their gender identity.
More than 44,000 UltraViolet members have signed on to the petition calling on the NBA to move the All-Star game in just the last two weeks.  With dozens of major companies like Paypal having already condemned North Carolina's law and having moved to relocate new business ventures out of the State, the petition asks PepsiCo, a major sponsor of the 2017 All-Star gameto join with thousands of people around the country and pressure the NBA to move the 2017 All-Star Game to a State that doesn't have laws discriminating against LGBTQ individuals.
VIEW THE PETITION HERE: http://act.weareultraviolet.org/sign/nba_2017allstar/
"North Carolina's new anti-LGBTQ law, which was passed under the guise of protecting women, is an extreme attack on LGBTQ women in the State and a threat to all LGBTQ people everywhere.  These laws make trans people and trans women in the state especially vulnerable to discrimination and harassment and undermine the rights of trans people to use facilities that correspond to their gender identity," explained Nita Chaudhary, co-founder of UltraViolet.  "PepsiCo has been outspoken in their support of the LGBTQ community in the past and now have the opportunity to send a clear signal to North Carolina politicians, and other elected officials looking to pass similar measures in other states, that businesses and the American people reject these hateful and discriminatory laws."
# # # # #