New TV Ad To Air During Olympics: Women's Soccer Should Get Equal Pay for Equal Work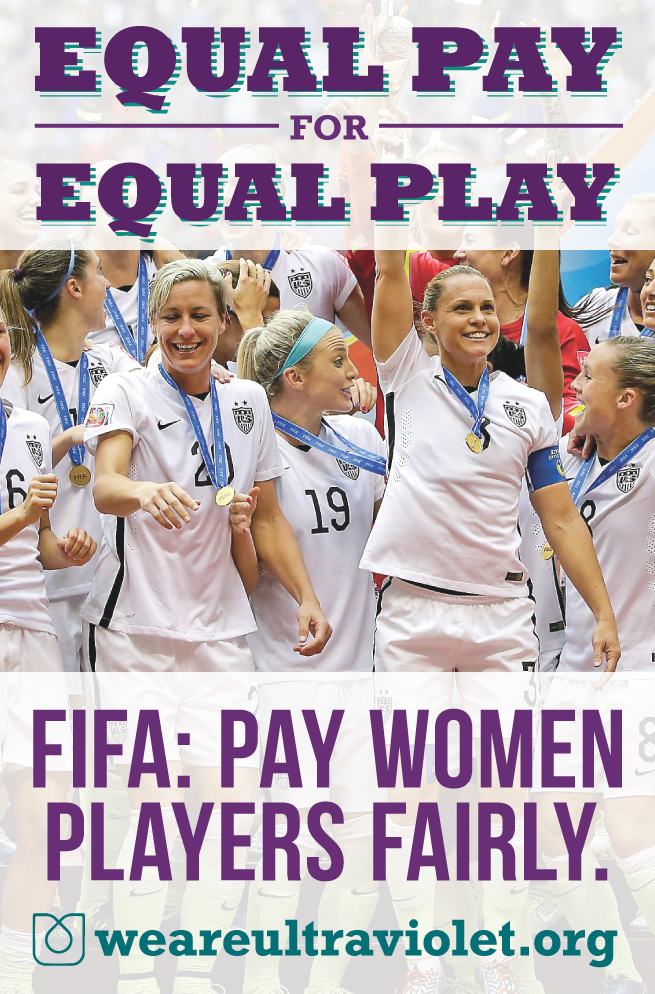 FOR IMMEDIATE RELEASE:  Tuesday, August 09, 2016
CONTACT:  Anna Zuccaro | 914-523-9145 | anna@unbendablemedia.com
New TV Ad To Air During Olympics: Women's Soccer Should Get Equal Pay for Equal Work
As US Women's National Team Heads for Another Olympic Gold in Rio, UltraViolet Ad Highlights Persistent and Unfair Pay Gap for Some of America's Most Highly-Decorated Athletes
A new TV ad from UltraViolet, a national women's advocacy organization, airing on NBC stations in Seattle (KING) and Baltimore (WBAL) today calls for the US Women's National soccer team players to receive equal pay for equal play.  The United States women's team is set to play Colombia at 6:00pm ET – and despite winning three World Cup championships and four Olympic gold medals – they still earn significantly less than the US men's team players.  The 30-second spot highlights the glass-wall that remains for US women's soccer players and will also run online on major sports websites like ESPN.com and SportsIllustrated.com.
VIEW THE AD HERE: https://youtu.be/mk8SNVBMf1Q
Earlier this year, five members of the US women's national soccer team – the current Women's World Cup and Olympics champions – filed a complaint with the Equal Employment Opportunity Commission over persistent wage discrimination by U.S. Soccer, the governing body for the sport in America.  The players named in the complaint are some of the most prominent and highly decorated female athletes in the world.
"The US women's team is the best in the world – with three World Cup championships, four Olympic gold medals – they have brought tremendous prestige to US soccer and inspired a passion for sports in young women across the world.  They're even favored to win Olympic gold in Rio again this year!" explained Nita Chaudhary, co-founder of UltraViolet.  "That's why it's so disgraceful that despite these tremendous successes these sports heroes are still paid less than half the pay of the US men's team, which has never even won a single World Cup or an Olympic championship.  Our message to U.S. soccer is simple: women deserve equal pay for equal play,"
"The US Women's soccer team's fight for equal pay speaks to the very real pay gap that still exists throughout this country – with women losing over $400,000 in earnings over a lifetime for the pay gap, and it's double that for women of color." added Chaudhary.
In 2015, Ultraviolet pressured FIFA to close the pay gap after the 2015 Women's World Cup champions netted only $2 million for their win, while the winners of the 2014 men's World Cup netted $35 million.  In contrast, the US men's team was awarded a whopping $8 million prize after losing in the Round of 16 in the 2014 World Cup.  As part of the effort, more than 72,000 UltraViolet members signed onto a petition urging FIFA demanding equal pay for the US Women's National soccer team.    
VIEW THE PETITION HERE: http://act.weareultraviolet.org/sign/fifa_women/
#  #  #
UltraViolet is an online community of over 1,000,000 women and men who take collective action to expose and fight sexism in the public sector, private sector and the media. Find out more at WeAreUltraViolet.org