TODAY: Mobile Billboard Traverses Reno Highlighting Dangers of ACA Repeal, Nearly 300,000 Nevadans Could Lose Coverage Altogether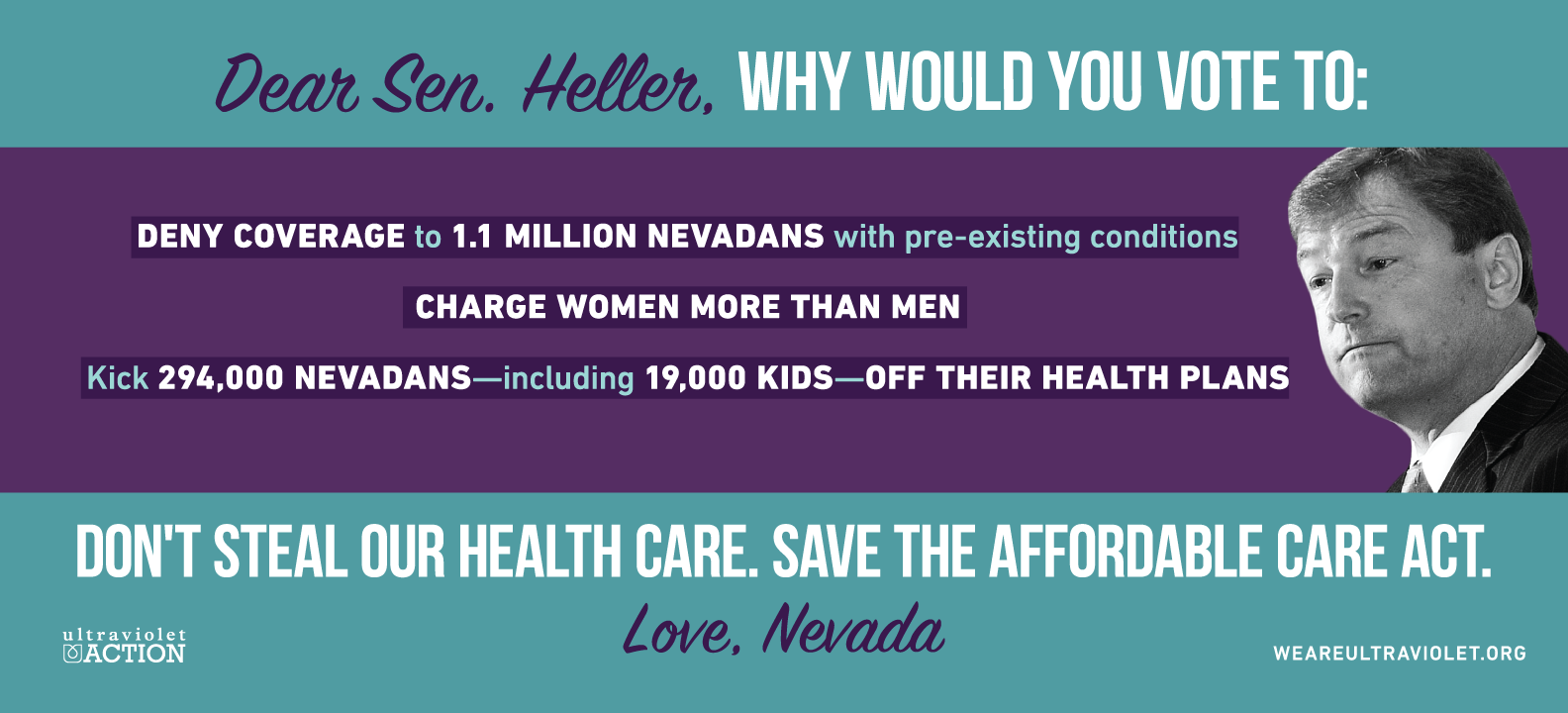 ** UltraViolet Action **
MEDIA ADVISORY FOR:  Monday, January 30, 2016
CONTACT: Anna Zuccaro | 914-523-9145 | anna@unbendablemedia.com
TODAY: Mobile Billboard Traverses Reno Highlighting Dangers of ACA Repeal, Nearly 300,000 Nevadans Could Lose Coverage Altogether
Billboard Urges Senator Dean Heller: "Don't Steal Our Health care"
RENO, NEVADA —  Today, January 30th, a new mobile billboard will traverse downtown Reno, stopping at Senator Heller's district office, and highlighting the dangers of repealing the Affordable Care Act in Nevada.  The billboard directly addresses Nevada Senator Dean Heller with the message: "Don't Steal Our Health Care."
The billboard, paid for by UltraViolet Action, a national women's advocacy organization, notes that repealing the Affordable Care Act would take away healthcare coverage from nearly 300,000 Nevada residents, 19,000 of whom are children and young adults.  The billboard also cites how Nevada women would have to pay more for coverage than men in the state, and up to 1.1m Nevadans with preexisting conditions could be denied coverage in the future.
WHEN: Monday, January 30th
WHERE: Senator Heller's Office: Bruce Thompson Federal Building 400 S. Virginia Street. Reno, NV
VIEW THE BILLBOARD HERE: https://www.flickr.com/photos/79559505@N06/32571136046/in/album-72157676171900383/
The billboard reads:
Dear Senator Heller, Why Would You Vote To:
Deny Coverage to 1.1 Million Nevadans with Pre-Existing Conditions
Charge Women More than Men
Kick 294,000 Nevadans – including 19,000 kids – Off Their Health Plans
Don't Steal Our Health Care. Save the Affordable Care Act
Love, Nevada
"Repealing the Affordable Care Act would literally cost thousands of Nevada women their lives.  Whether it was the ACA's guaranteed coverage of screening tests for cervical or breast cancer, comprehensive maternity care, domestic violence counseling, or access to birth control and emergency contraception – for thousands of Nevada women and their families the real health care benefits provided by this law are non-negotiable."  explained Shaunna Thomas, co-founder of UltraViolet Action.  "Without the Affordable Care Act, more than 400,000 Arizonans could lose access to their health insurance, including roughly 50,000 children.  An additional 2.7 million Arizonans with pre-existing conditions would also be in danger. President Trump and Republicans in the Senate want to take us back to a time where women paid more for health insurance and millions of Americans died unable to affordable care.  That cannot happen.  Our message to Senator Dean Heller is simple: don't steal our health care, save the Affordable Care Act."
For more information, or to track the mobile billboard while it traverses Phoenix, please contact Anna Zuccaro at 914-523-9145 or by email at anna@unbendablemedia.com.
# # # # #