TUESDAY: Billboard Circles Capitol Hill Declaring "Survivors of Sexual Assault Can't Trust Jeff Sessions" As Senate Judiciary Committee Begins Confirmation Hearings for Attorney General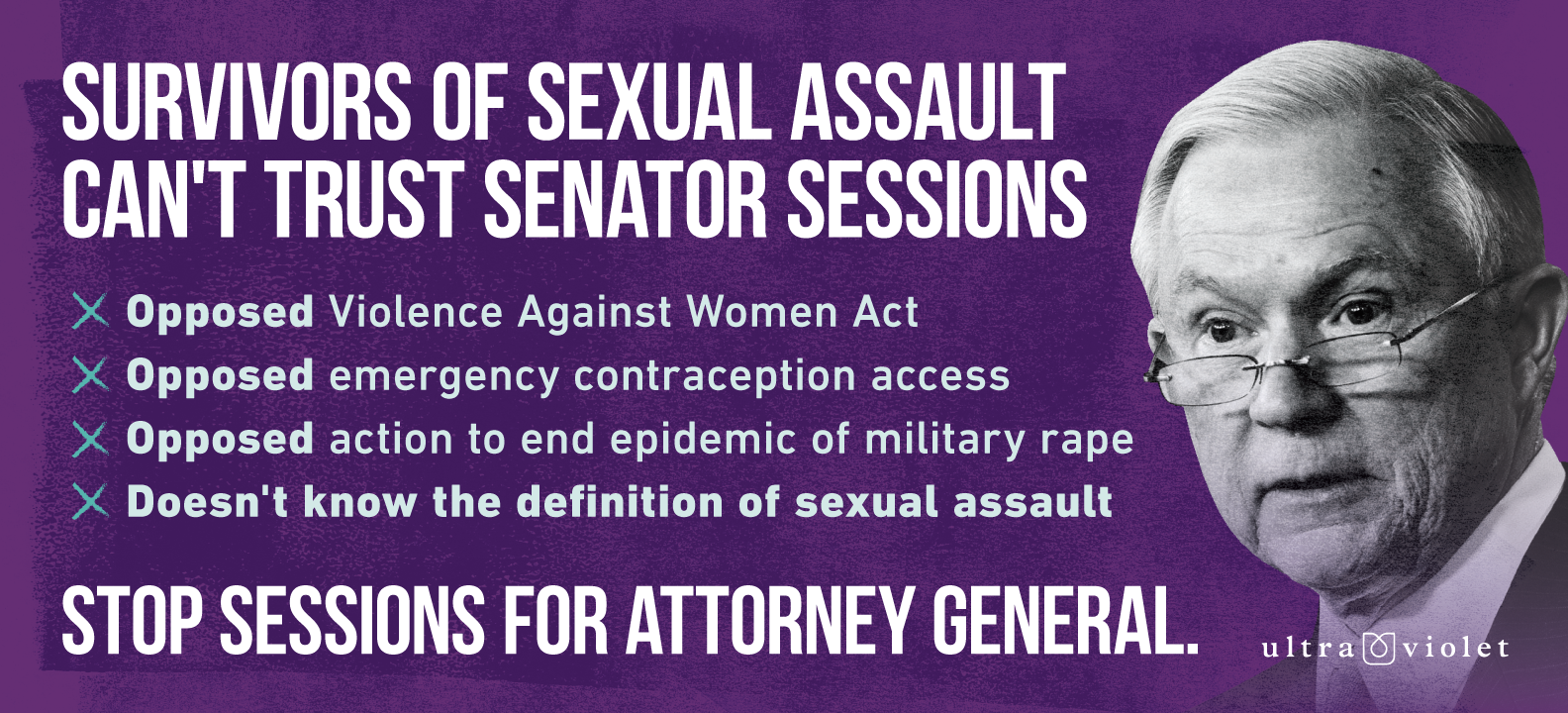 MEDIA ADVISORY FOR: Tuesday, January 10, 2016
CONTACT: Anna Zuccaro
| 914-523-9145 |
TUESDAY: Billboard Circles Capitol Hill Declaring "Survivors of Sexual Assault Can't Trust Jeff Sessions" As Senate Judiciary Committee Begins Confirmation Hearings for Attorney General
100,000 Join Women's Group in Urging the Senate Judiciary Committee to Reject Sessions' Nomination to be Nation's Chief Law Enforcement Officer
Senator Sessions Has Long Record of Opposing Legislation to Support Sexual Assault Survivors, Said President-Elect Trump's Access Hollywood Comments Do Not Constitute Sexual Assault
WASHINGTON, DC — On Tuesday, January 10th, as the Senate Judiciary Committee begins confirmation hearings for Senator Jeff Sessions' appointment to US Attorney General, a mobile billboard will circle Capitol Hill highlighting the Senator's long-standing anti-woman record, and declaring that "survivors of sexual assault can't trust Jeff Sessions."
VIEW THE BILLBOARD HERE: https://s3.amazonaws.com/s3.weareultraviolet.com/images/20170104-UV-sessionsbillboard.png
The billboard comes after a group of sexual assault survivors joined by their supporters and members of UltraViolet confronted Senator Sessions' at his Capitol Hill office over his long-standing anti-woman, anti-survivor record. At the action, the survivors of sexual assault and their allies delivered a giant poster to Session's Senate Office with the Justice Department's definition of sexual assault. The Justice Department defines sexual assault as: "any type of sexual contact or behavior that occurs without the explicit consent of the recipient."
VIEW PHOTOS FROM THE ACTION HERE: https://www.flickr.com/photos/79559505@N06/albums/72157678966620205
VIEW THE POSTER HERE: https://s3.amazonaws.com/s3.weareultraviolet.com/images/SAdefinition.jpg
Senator Jeff Sessions has a long record of opposing legislation that would protect and support sexual assault survivors – voting against both the Violence Against Women Act and Military Justice Improvement Act as Senator.  During the 2016 election campaign, Senator Sessions, a top Trump surrogate, refused to acknowledge that President-Elect Trump's comments in the 2005 hot mic video where he described forcibly kissing women and grabbing them by their genitals – constituted sexual assault, telling The Weekly Standard shortly after the news broke that "I don't characterize that as sexual assault.  I think that's a stretch."
More than 100,000 people have already signed onto a petition from UltraViolet calling on the Senate Judiciary Committee to reject Senator Jeff Sessions appointment, arguing that the nation's chief law enforcement officer must be protect women and prosecute crimes when women's rights are violated.
VIEW THE PETITION HERE: https://act.weareultraviolet.org/sign/stop_sessions/
"Grabbing women's genitals without their consent is the very definition of sexual assault, and it is a crime — full stop," explained Shaunna Thomas, co-Founder of UltraViolet. "It is deeply disturbing, but not particularly surprising, that President-Elect Trump would appoint a man with such an abysmal record on protecting women – from voting against cracking down on military sexual assault, to opposing the Violence Against Women Act –  to serve as the nation's chief law enforcement officer.  Thirty years ago, the Senate said Senator Jeff Sessions was unfit to be a federal judge – it is now up to the Senate Judiciary Committee to ensure that our nation's standards aren't lower today than they were 30 years ago.  With an ongoing epidemic of sexual assault and violence towards women – our nation deserves better from its Attorney General."
For more information, or to RSVP to Monday's press conference, please contact Brett Abrams at 516-841-1105 or by email at brett@unbendablemedia.com.
# # # # #
UltraViolet is an online community of over 1,000,000 women and men who want to take collective action to expose and fight sexism in the public sector, private sector and the media. Find out more at WeAreUltraViolet.org.