UltraViolet on Puzder Withdrawing His Name for Labor Secretary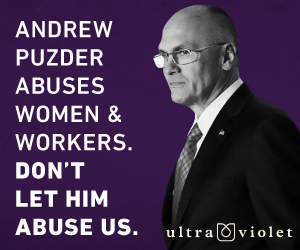 For Immediate Release: Wednesday, February 15, 2017
Contact: Anna Zuccaro | anna@unbendablemedia.com | 914-523-9145
UltraViolet on Puzder Withdrawing His Name for Labor Secretary
WASHINGTON, DC — Moments ago, fast food CEO Andrew Puzder withdrew his name for Labor Secretary.  Puzder, the CEO of CKE restaurants, which owns the fast food chains Hardee's and Carl's Jr, has faced  opposition regarding his positions on labor issues, history of domestic violence, questionable corporate policies, unpaid taxes and reports of sexual harassment from CKE employees.
In response, Nita Chaudhary, co-founder of UltraViolet, a national women's advocacy organization, released the following statement:
"The withdrawal of Andy Puzder for Labor Secretary is visible proof that Senate Republicans could not ignore the writing on the wall – Puzder would be bad for workers, bad for women, and bad for women who work.
"Puzder's claim that the vetting process was 'abusive' was especially disgusting –  coming from a man with a clear record of abusing women and abusing workers.  Good riddance."
Last month, UltraViolet commissioned a mobile billboard targeting Puzder in his hometown of Franklin, Tennessee. The billboard, which read "Andrew Puzder abuses women and workers. Don't let him abuse us as labor secretary," circled the Nashville and Franklin area for several days.  More than 66,000 UltraViolet members also signed onto a petition calling on the Senate to reject Puzder nomination.
# # #