UltraViolet Slams Judge Persky for Delaying Domestic Abuser's Sentence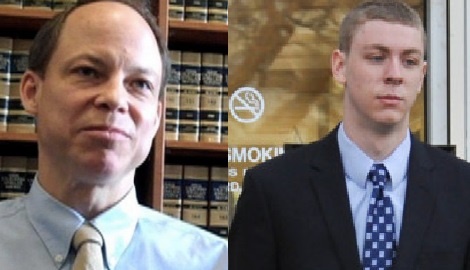 For Immediate Release: Monday, August 29, 2016
Contact: Brett Abrams | 516-841-1105 | brett@unbendablemedia.com
UltraViolet Slams Judge Persky for Delaying Domestic Abuser's Sentence
Persky Delayed Football Player Ikaika Gunderson's Sentencing for Over a Year After He Plead Guilty to Assaulting His Ex-Girlfriend
CALIFORNIA — Over the weekend, Buzzfeed reported on a February 2015 case where Judge Aaron Persky delayed the sentencing of convicted domestic abuser, Ikaika Gunderson, so that he could attend and play football at the University of Hawaii.  Gunderson was due to be sentenced to four years in state prison for beating and choking his ex-girlfriend, but Judge Persky delayed the sentence for more than a full year.  According to the survivor of Gunderson's attacks, "they made it easy for him."
Judge Persky recused himself from hearing criminal cases last week, following months of public outcry over his decision to sentence Stanford athlete and convicted rapist Brock Turner to a mere six-months in prison for raping an unconscious woman. Judge Persky will still preside over civil cases.
Nita Chaudhary, Co-founder of UltraViolet, issued the following statement in response:
"The list of sickening examples of cases where Judge Persky has sympathized with college athletes – letting them get away with deplorable acts of sexual violence and abuse against women – never seems to stop growing.
"With each documented case, it's only become clearer that Judge Persky operates under a dangerous pattern of bias that excuses rape culture and normalizes violence against women. It is long past time that the California Commission on Judicial Performance recognized that Persky's presence in any courtroom, regardless of whether the case is civil or criminal, is unacceptable.
"Survivors need a break; not abusers. That's why more than 1 million UltraViolet members from California to Maine continue to urge the Commission to face the facts, do what is right, and remove Judge Aaron Persky from the bench. Permanently."
Since news of Judge Persky's verdict in the Brock Turner case broke, UltraViolet has:
# # # # #
UltraViolet is an online community of over 1,000,000 women and men who want to take collective action to expose and fight sexism in the public sector, private sector and the media. Find out more at WeAreUltraViolet.org