UltraViolet's WomenAsk2016 Crowdsources Top Questions Women Want Answered at the Presidential Debate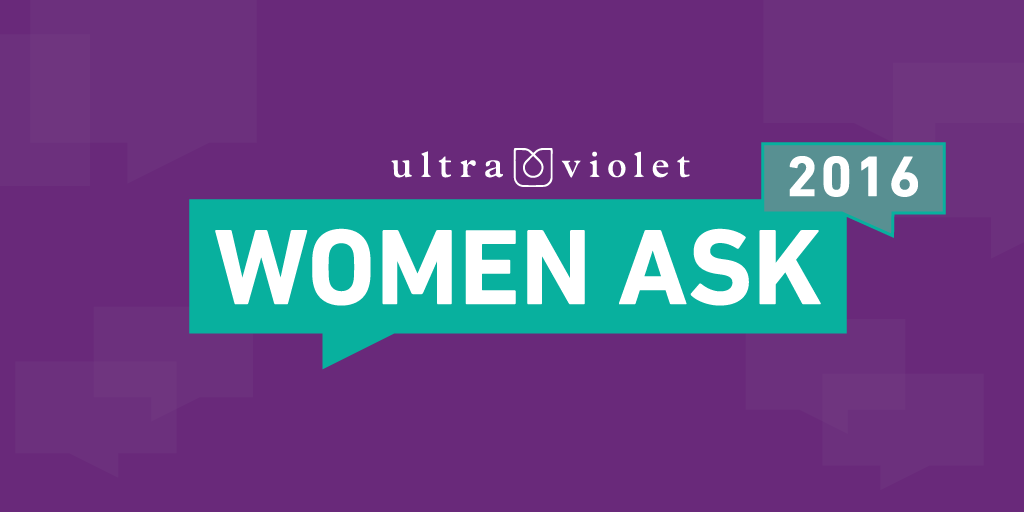 UltraViolet's WomenAsk2016 Crowdsources Top Questions Women Want Answered at the Presidential Debate
Group Asks Debate Moderator Lester Holt to Ask About Keeping Guns Out of the Hands of Domestic Abusers, Abortion Access Abortion at the 1st Presidential Debate
Today, UltraViolet, a community of one million women and men mobilized to fight sexism and expand women's rights, released a letter addressed to debate moderator Lester Holt, calling on him to ask questions in the
September 26th
presidential debate that highlight the major issues facing American women. The letter specifically calls on Holt to ask questions about women's health care and access to abortion, preventing domestic abusers from getting guns, affordable child care and equal pay for women.
The letter aims to remedy the unprecedented sexism the media has portrayed throughout the presidential campaign and the lack of coverage of issues that primarily impact women during the election cycle, particularly with the nomination of the first woman to a major party ticket.
Earlier this month, UltraViolet launched
WomenAsk 2016
, an online portal that encouraged voters to submit questions that they would want to hear from the debate moderators during the Presidential debates. With over 1,000 questions submitted, and over 45,000 votes cast in the online forum, some of the top questions that emerged included:
As President, will you commit to keeping guns out of the hands of domestic abusers? What specifically will you do to address domestic violence against women?

Would you guarantee the right to have safe and effective access to abortions and sexual health services to all women?

Quality child care is increasingly unaffordable, especially for Black and brown families, what will you do to fix that?

What is one policy that you will enact that will make a tangible impact on the daily lives of working women?

Will your Department of Justice challenge state laws that contravene Roe v. Wade, Planned Parenthood v. Casey, or Whole Woman's Health v. Hellerstedt, making abortion unavailable?

What will you be doing to ensure equal pay for equal work for women?

Food insecurity disproportionately impacts women. How will food insecurity and recent SNAP cuts be addressed?

Should politicians have the power to ask doctors to give medically inaccurate information regarding abortion to women?

What will you do to expand pre-K education and improve working conditions for teachers?
LEARN MORE ABOUT WOMENASK 2016 HERE: http://debates.weareultraviolet.org
"With the first female major party candidate in history, women's issues and sexism have played a huge role in the presidential election so far this year. We simply cannot afford for Presidential debate moderators to continue ignoring the issues that are most important to American women," explained Nita Chaudhary, co-founder of UltraViolet. "Lester Holt and the rest of the presidential debate moderators have the power to shed light on the most paramount issues facing the largest voting segment of the population: women. Yet the media seemingly continues to discount crucial topics that affect women the most."
"From equal pay, to abortion access, to basic protections for survivors of domestic violence and sexual assault – the media has consistently dropped the ball on issues important to women voters. It's time to stop ignoring these critical topics. The moderators of the 2016 presidential debates need to listen to women and ask the tough questions that matter to more than half of America's electorate," added Chaudhary.
On Monday
, just one week before the first presidential debate between Secretary Hillary Clinton and Donald Trump, UltraViolet commissioned a mobile billboard that circled NBC News' DC office, as well as the Commission on Presidential Debate headquarters demanding that 2016 debate moderators ask questions on the major issues facing American women. The mobile billboard read,"Tell the 2016 Debate Moderators: Cover Women's Issues."
# # # # #
UltraViolet is an online community of over 1,000,000 women and men who want to take collective action to expose and fight sexism in the public sector, private sector and the media. Find out more at
WeAreUltraViolet.org