Women's Group Launches New Website Asking "WTF Has Hillary Done Anyway?"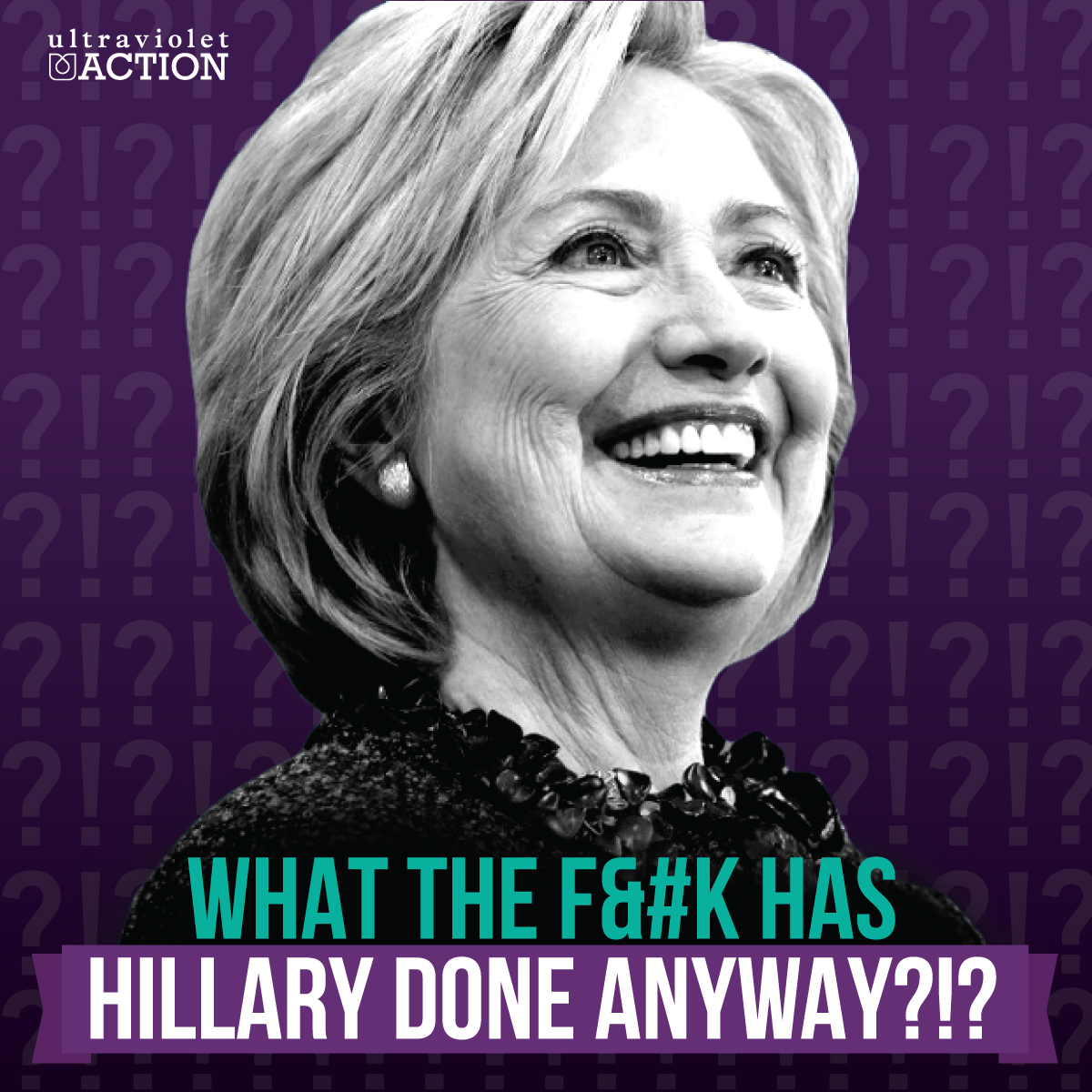 For Immediate Release: Friday, July 29, 2016
Contact:
Women's Group Launches New Website Asking "WTF Has Hillary Done Anyway?"
UltraViolet Action's New Website Highlights Hillary Clinton's Accomplishments and Qualifications to Serve as First Woman President of the United States
UltraViolet Action, a national women's advocacy group, has launched a new website, "WTF Has Hillary Clinton Done Anyway," highlighting Hillary Rodham Clinton's numerous accomplishments throughout her career in public service and her concrete initiatives on key issues facing the United States—from combatting sexual assault on college campuses, to expanding reproductive health and abortion access and defending LGBT rights. The website has garnered over 15,000 views in under 24 hours.
SEE "WTF Has Hillary Done Anyway?" HERE: http://wtfhashillarydone.com
Some highlights from the website are that Hillary Clinton:
is the only presidential candidate that has a comprehensive plan to address campus sexual assault
called abortion access "a fundamental human right"
repeatedly stood up to Congress regarding family planning and abortion access
helped create the Children's Health Insurance Program (CHIP), which insured over eight million kids
fought for paid family leave, a child care tax credit, and universal pre-K for decades
The campaign comes after Clinton's official presidential nomination and follows President Obama's recent remarks about her qualifications, in which he stated, "There has never been a man or a woman — not me, not Bill, nobody — more qualified."
"Throughout Hillary Rodham Clinton's campaign, Donald Trump and the right have loved to attack her, questioning her qualifications when it comes to the issues, said Nita Chaudhary, Co-founder of UltraViolet. "But what they don't mention is that she's already accomplished more for women and families than they probably ever will in their entire lifetimes."
"She is the only presidential candidate with a comprehensive plan on campus sexual assault. She has fought for and won health insurance for more than eight million low-income children in the United States and has been a champion for paid family leave, child care, and universal pre-K for decades. The list goes on and on—and makes one thing clear: Hillary Clinton is the most qualified presidential nominee our country has ever had," added Chaudhary.
# # #
UltraViolet Action is an online community of over 1,000,000 women and men who take collective action to expose and fight sexism in the public sector, private sector and the media. Find out more at WeAreUltraViolet.org