Women's Group Stands with US Women's Soccer Team, Demands Equal Pay for Equal Play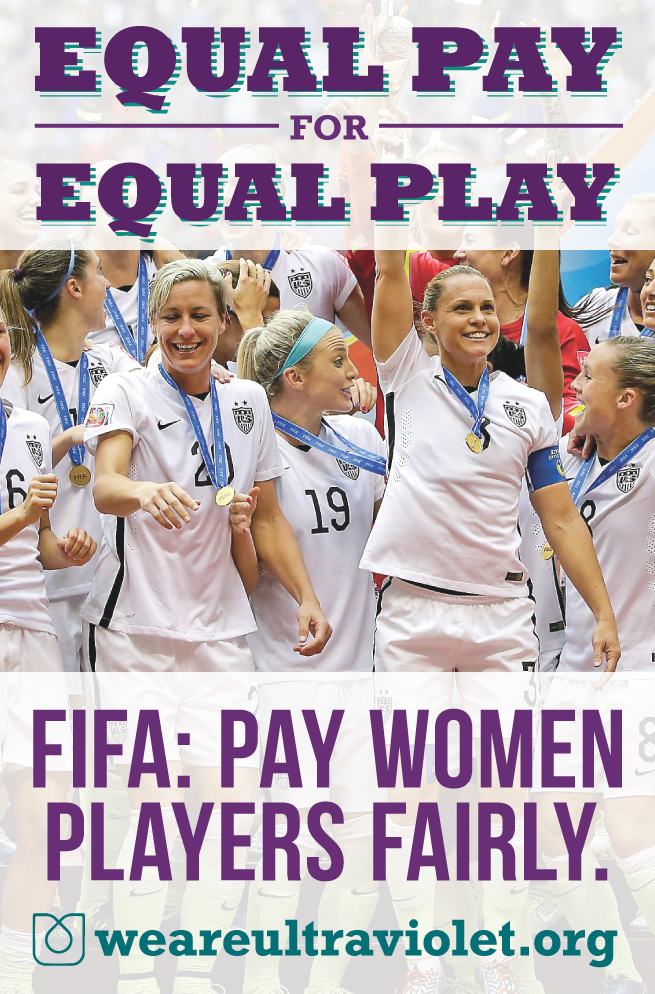 FOR IMMEDIATE RELEASE: Thursday, March 31, 2016
CONTACT: Brett Abrams | 516-841-1105 | brett@unbendablemedia.com
Women's Group Stands with US Women's Soccer Team, Demands Equal Pay for Equal Play
Earlier today, five members of the US women's national soccer team – the current Women's World Cup and Olympics champions – filed a complaint with the Equal Employment Opportunity Commission over persistent wage discrimination by U.S. Soccer, the governing body for the sport in America.  The five players named in the complaint – Carli Lloyd, Becky Sauerbrunn, Alex Morgan, Megan Rapinoe and Hope Solo – are the more prominent and decorated female athletes in the world.  
In solidarity with the players, Nita Chaudhary, co-founder of UltraViolet, a national women's advocacy organization, issued the following statement:
"Our message to U.S. soccer is simple: equal pay for equal play.  
The US women's team is the best in the world – these women have won three World Cup championships and four Olympic championships bringing tremendous prestige to US Soccer and igniting a passion for sports in young women across the country.  
It is disgraceful that despite these tremendous successes these sports heroes are still paid less than half the pay of the US men's team, which has never even won a single World Cup or a Olympic championship.
We stand with Carli Lloyd, Becky Sauerbrunn, Alex Morgan, Megan Rapinoe and Hope Solo in their courageous fight for equal pay.  Their fight for equal pay speaks to the tremendous pay gap that still exists throughout this country – with women being paid only 79 cents to every dollar a man earns, a gap that only worsens for women of color.  
The EEOC must stand with America's World Cup champions and send a clear signal that paying women less for equal work is never acceptable."
In 2015, Ultraviolet pressured FIFA to close the pay gap after the 2015 Women's World Cup champions netted only $2 million for their win, while the winners of the 2014 men's World Cup netted $35 million.  In contrast, the US men's team was awarded a whopping $8 million prize after losing in the Round of 16 in the 2014 World Cup.  More than 72,000 UltraViolet members had previously signed onto a petition demanding equal pay for the women's World Cup soccer team.
VIEW THAT PETITION HERE: http://act.weareultraviolet.org/sign/fifa_women/
FOR MORE INFORMATION: http://www.nytimes.com/2016/04/01/sports/soccer/uswnt-us-women-carli-lloyd-alex-morgan-hope-solo-complain.html?emc=edit_na_20160331&nlid=73827316&ref=cta&_r=0
# # # # #
UltraViolet is an online community of over 700,000 women and men who take collective action to expose and fight sexism in the public sector, private sector and the media. Find out more at WeAreUltraViolet.org