Women's Group Targets Senators Up In 2018 With Full Page Ads Calling Them Out For Doing Nothing As Trump Appointed a White Supremacist to Chief White House Strategist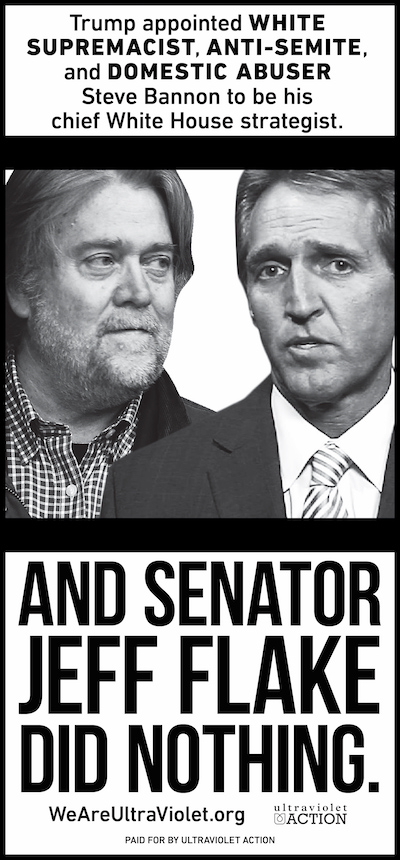 Media Advisory for:

Tuesday, November 22, 2016
Women's Group Targets Senators Up In 2018 With Full Page Ads Calling Them Out For Doing Nothing As Trump Appointed a White Supremacist to Chief White House Strategist
UltraViolet Action Launches  Multi-State Ad Campaign Against Senators Jeff Flake, Deb Fischer, and Dean Heller Over Failure to Speak Out Against Steve Bannon
Today, Tuesday, November 22nd, full-page ads in The Arizona Republic, The Lincoln Star Journal, and The Reno Gazette Journal call out Senators Flake, Fischer and Heller for failing to speak out against President-elect Donald Trump's appointment of Stephen Bannon, a white supremacist and domestic abuser, to chief White House strategist.
The ads are paid for by UltraViolet Action, a national women's advocacy organization, and state  that "Trump appointed a White Supremacist, Anti-Semite, and Domestic Abuser Steve Bannon to be his chief White House Strategist. And Senator X Did Nothing"
"Stephen Bannon is a white supremacist, an anti-semite and domestic abuser and Donald Trump just made him one of the most influential people inside the White House. And yet, these Republican Senators did nothing " explained Shaunna Thomas, co-founder of UltraViolet Action.
"When  our elected officials fail to speak out – or take action by blocking Trump's cabinet appointments – they are endorsing this behavior, and that's unacceptable. Whether you support Trump or don't, we can all agree that someone with Bannon's background does not belong in the White House. These Senators put party before country" added Thomas.
# # #
UltraViolet Action is an online community of over 1,000,000 women and men who want to take collective action to expose and fight sexism in the public sector, private sector and the media. Find out more at
WeAreUltraViolet.org
.